---
We had a Blast at the 2017 Fall Primitive Shoot! Stay posted for 2018 Primitive News.
Experience the beautiful Western North Carolina Mountains in their Fall glory!
Course of Fire
Mountain Man Aggregate; Won By Club Member Morris Burleson
Woods Walk; Won by Club member David Abernathy
Seneca Run; 5 shooting stations spread along a 200+ yard loop, shoot from the bag, range rod allowed. Timed limit, best shoot score wins, running time breaks ties. Won by Club Member John Mouzon
Critter Gitter; 25, 50 and 100 yard animal targets, 5 shots on each target. Friday and Saturday 9:00 on, Sunday 9:00-12:00
Daily re-entry matches; these matches are typically $1.00 entry with 50/50 payout or meat prizes and you may enter as many times as you like. Deer Hunter, 100 yard full size deer silhouette closest to heart wins. Big Cheese, rat target 5 shots. Ham on a rope; $1.00 a shot, cut the rope and win a ham. Other targets as Range Master chooses!
Registration; $30 for the complete event including a Saturday Evening Communal Dinner. On-site camping available with gates opening Thursday Afternoon for Early set-up. Primitive or Modern camps available. No hook-ups, bring your own water, some firewood available. Daily registration is an option.
Check out the "Gallery" page to see some pictures from past events.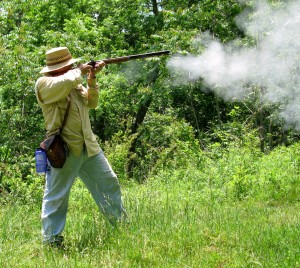 Fall Primitive October 13-15, 2017