---
Results are in from the 2021 Fall Primitive Weekend!
Thanks to the 10 members and 2 guests that showed up for this year's primitive shoot. A couple days of rain early in with a real gullywasher Friday night made for some soggy grounds but the weather Saturday and Sunday was beautiful.
We had a nice dinner Saturday evening with a venison hunter's stew, 2 different chili soups with fixins', cornbread and desserts. Thank you to all who donated to this meal.
We had a pretty good take with the various re-entry targets. Henry Battistoni and Kelly Pittman both took home turkey for winning on the turkey target. Dieter Rolfe and Kelly Pittman took home the big cheese for winning on the Rat target.Henry also won the Squirrel's nuts for winning the squirrel target. Dieter Rolfe and Steven Baxley each won a Ham by cutting the ham on a rope. Others may have hit the rope, but these guys provided the final shots.
For the main events, Butch Hyams won the Bottle target and will be receiving a bottle of something fine for his efforts.
Woodswalk places; 1st Eric Barnhart-15, 2nd Larry Koupal -14, 3rd David Reed-14, 4th Dean Tesch-14, 5th Dieter Rolfe-13, 6th Robert Rolfe-8.
Critter Gitter 1st place Dieter Rolfe-100, 2nd Eric Barnhart- 89, 3rd Henry Battistoni-78 and 4th place to Larry Koupal with a 66.
Hawk and Knife 1st Robert Rolfe-7, 2nd David Abernathy-6 and 3rd Henry Battistoni-5.
Firestarting 1st Henry Battistoni-5, 2nd Eric Barnhart-4 and 3rd place to David Abernathy-3.
Novelty Targets 1st Henry Battistoni-10, 2nd Kelly Pittman-9, 3rd David Abernathy-9 and 4th Dieter Rolfe-8.
Congratulations to Henry Battistoni, crowned Mountain Man of 2021 !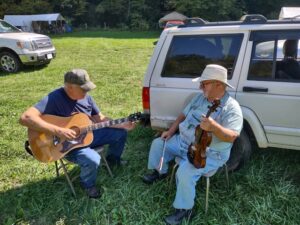 Fall Primitive Weekend October 8-10, 2021 Results are in!